About Davis Print
Davis Print have been Portland's leading printers since 1890. We are where Portland
turns to for Printing, Stationery and Newsagency lines. Established in 1890 by
Edwin Davis, E. Davis & Sons Pty Ltd trading as Davis Print is today operated by two of
the founder's great grandsons in modern purpose built premises using some of the latest
equipment available. We provide a wide range of services including Desktop Publishing
which includes a Full Colour Laser Printing Service.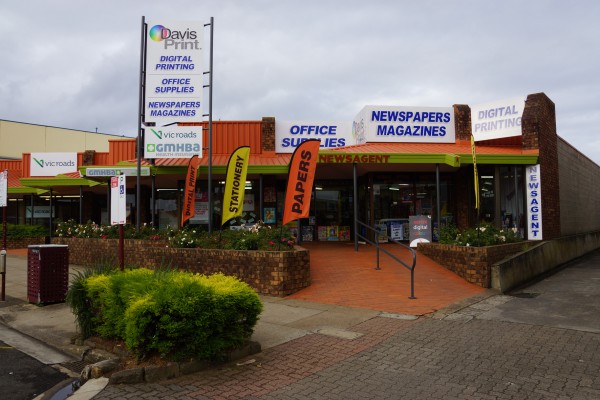 Why We Exist!
Here at Davis Print, we exist to give our customers the best possible product when it
comes to Printing, Stationery and Newsagency lines. Always with Personal Service, at a
Competitive Price, on time. Given our extensive range of services, we cater to a wide
range of clients including:
Glenelg Shire Council
Port of Portland
Keppel Prince Engineering
Portland District Health
Porthaul Transports
Printing:  All general offset and letterpress printing and black and white and full colour
copying. Plastic film laminating, comb binding, metal eyeletting, hot foil printing, book binding,
T-shirt printing. Digital printing to black and white and full colour laser printers and digital press. Graphics scanned and saved to disk or CD. Full CD burning service available.
WE ARE STATIONERS
We offer Portland's largest and most comprehensive range of office supplies including:
computer accessories, ink jet printer consumables, office and specialty papers, writing instruments, filing products and general office requirements.
Rubber stamps made to order on premises.
WE ARE NEWSAGENTS
We stock a full range of daily newspapers, magazines and periodicals. A large range of cookbooks is also a feature of our store.
Here At Davis Print Our Policy Is Simple:
To give Our Customers the Best Possible Product- with Personal Service- at a Competitive Price- on Time!